Growing up, money has always been a taboo subject. Most nurses and nurse practitioners are not aware or have never been schooled in the art of negotiation. Honestly, I have never negotiated my salary until my 2nd job as a nurse practitioner. For some people, negotiating could bring up an emotional response. Sometimes it can be a source of anxiety and stress.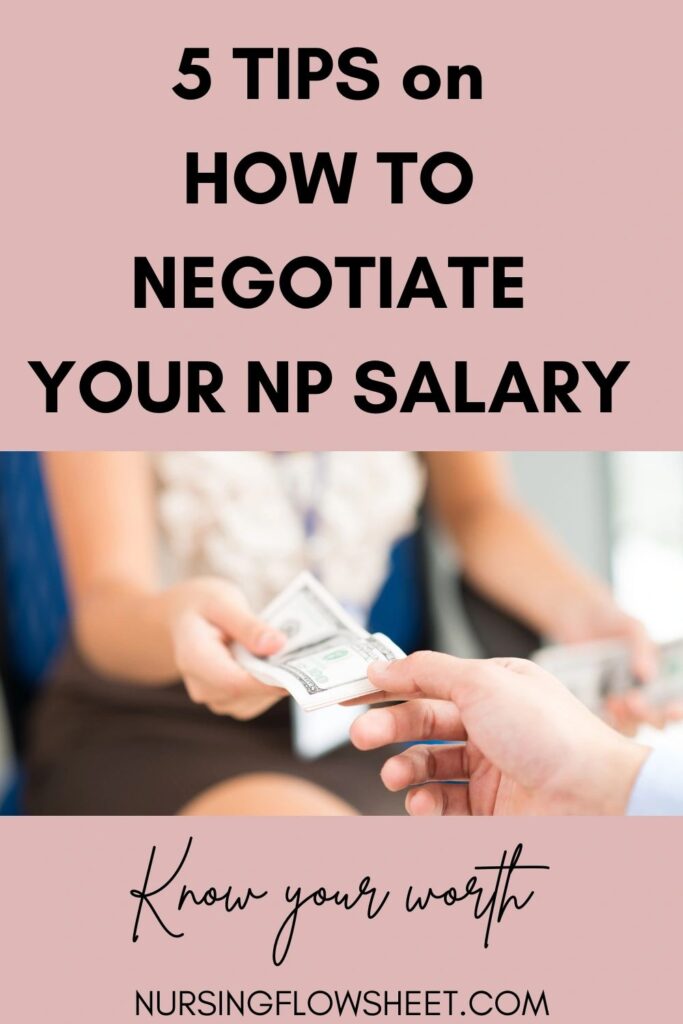 According to new CareerBuilder research, a majority of employers in the U.S. (73 percent) say they would be willing to negotiate salary on an initial job offer. Still, more than half of workers (55%) do not even ask for a higher salary when offered a new position .Some of the reasons are:  they don't feel comfortable asking for more money, they are afraid the employer will decide not to hire them, or they don't want to appear greedy. 
Negotiating is something important and should be done whenever you are offered a new job. I like to think of it as a way to advocate for yourself and your worth in your profession.
Here are some tips on How to Negotiate your NP Salary:
Negotiation is Normal
Most hiring managers EXPECT salary negotiations but they want the candidate to initiate this conversation
As a Nurse Practitioner, it is common to negotiate your contract with your employer
2. Before Negotiating, Do your Research
You need to do know your salary expectations, not only as a NP, but of NEW grad NPs as well. Some factors to consider when doing your salary research is: your location, what your specialty is, your experience (as a NP not a RN). (Check out my post about How much does a Nurse Practitioner Make?)
.Check out Monster, Indeed, Glassdoor, PayScale, and similar websites to see what the pay ranges are.
If possible, speak directly with those who hold similar positions in your area. You can use networking resources like FB groups, LinkedIn. They may not share their salary but you can ask the right questions to seek for the answer (sometimes just ask for an approximate range)
3. Know the setting of your Negotiation
While most negotiations happen in-person during the interview (if you get the job offer on the spot), email is best way to keep a digital trail that ensures communication is clear and quick.
4. Negotiate with Confidence
When you discuss compensation and salary with your potential employer, you're demonstrating that you value your education, expertise, experience and knowledge and sometimes if you want to be valued by an employer, you have to also understand your own worth.
Besides salary, there are other things you have to also include in your negotiation .Remember that your compensation package is more than just your paycheck. If the money itself can't be negotiated, use PTO, Continuing Medical Education (CME) allowance, health insurance premiums, sign-on bonuses, relocation bonus etc.
5. Be Authentic
At the end of the day, the negation is about YOU and WHAT YOU WANT
Be prepared to walk away if the of offer is not reasonable. Do not accept an offer that you know will not pay the bills, student loans etc.
If you sincerely want the job, ALWAYS NEGOTIATE IN GOOD FAITH.
Andrea, from ResumeRx has a good article on How to Navigate Your Negotiation Conversation
In conclusion,
Salary negotiation is never easy but learning to value your worth as a professional is KEY. Research, negotiation, and compromise skills are important for your career growth and as you come into your own as a highly valued and valuable nursing professional.