So you've graduated nursing school, passed your NCLEX, and started your first nursing job. Woohoo! Then you got a mail that it's time to start paying for your dreaded student loans…
I've been there, done that! I paid off my $40,000 student loans in 2020 and never looked back. Hopefully you have applied for grants, financial aids and scholarships available to you to lower down your loans. Having too much student loan can affect your ability to qualify for other loans such as buying a house ( which is fine if you don't want to own one)
Here are some ways to take care of your student loans faster that way you can enjoy your hard-earned money as a nurse.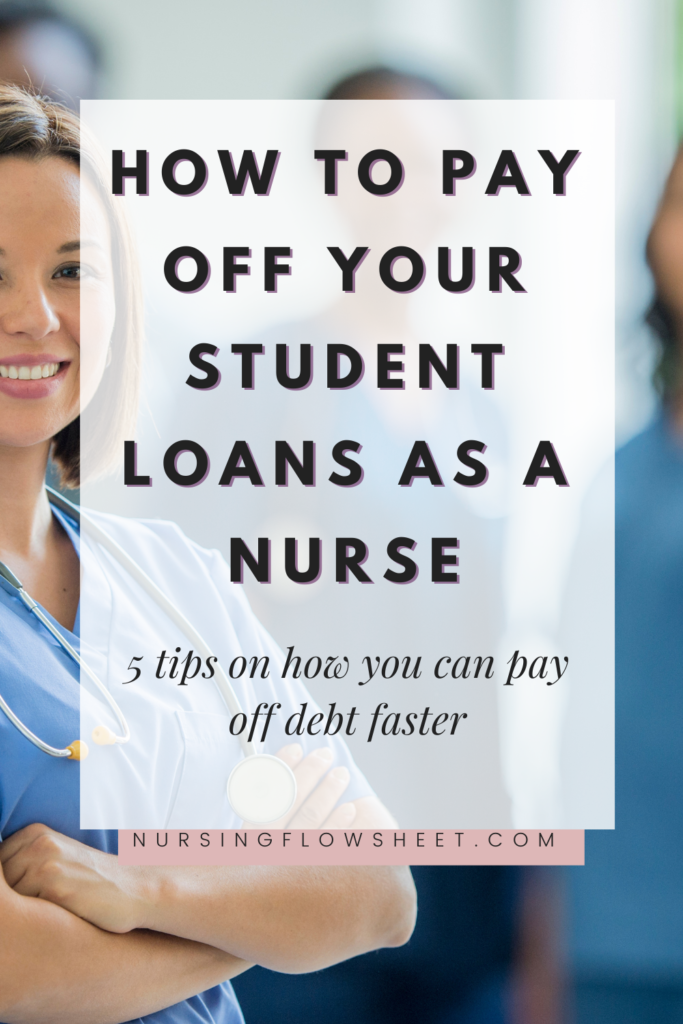 1. Refinance Your Student Loans
Refinancing means your interest rate will be lowered on your existing loan. It can help you reduce your monthly payments so you can instead save or invest the rest of your money. It doesn't cost to refinance but most private loan companies will determine your eligibility on your credit score/ history / proof of stable income and debt-to-income ratio.
I refinanced my loan back in 2018 to get a lower monthly payment and used SOFI. (You will have $100 deposited into a SoFi checking account after your loan is funded)
Current rates right now are as low as 3.99% for refinancing your student loans.
FYI: Keep in mind though that if you refinance your student loans from a government one, you may not qualify for student loan forgiveness programs.
2. Apply to Public Service Loan Forgiveness or Loan Repayment Programs
Depending on the type of loan and the date it was taken out, you may be eligible for a full or partial Perkins loan cancellation. Here is a great article that talks about PSLF. Certain full-time nurses may qualify for 100% forgiveness with five years of service.
Under the Student Loan Forgiveness Program, you will receive full forgiveness for any remaining balance after making 120 monthly payments toward your direct loans.
This program is available to nurses working full or part-time at Health Professional Shortage Areas (HPSA) sites. My sister worked at a HPSA site for 2 years and they paid off her $25,000 student loans.
These locations desperately need nurses and usually treats the underserved communities.
In return for working full time in a qualifying position at a HPSA-designated facility,, you can earn up to $50,000 in forgiveness
Part-time is eligible for up to $30,000 in forgiveness for the same time allocation (two years of part-time time work)
After completing your two-year commitment, you may be able to sign up for additional contract extensions until all of your loans are entirely forgiven
These funds are not taxed
3. Consider Working for the VA
Veterans Affairs-affiliated nursing positions are eligible for up to $200,000 through the VA's Debt Reduction Program. Learn more at VA Careers.
4. Pay more than Minimum
This is probably the easiest and the quickest way I paid off my $40,000 student loans in 2020. Making sure you pay more than the minimum will, by definition, allow you to pay off your student loans quicker.
I also budgeted and made sacrifices during that year because I PRIORITIZED paying off my student loans.
5. Apply to Student Loan Debt Relief up to $10,000
As you know, the application for the student loan debt relief just came out. You can apply here. Make sure you apply before December 31, 2023.
In conclusion
Planning with no action is useless so now that you have learned strategies to pay off your student loans, I hope that you feel empowered in making informed decisions around repayment or forgiveness. Having a career as a nurse is already stressful so getting rid of your student loans can make it less stressful.